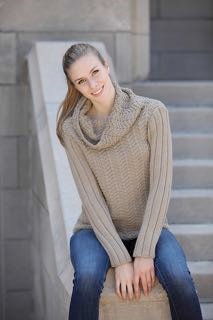 There are so many ways your sweater can go wrong but even more ways it can go sooo right. In this "all things sweater" over view class will cover some of the most important things you need to know, as well as a host of fantastic hands on knitting tips to get you to your perfect sweater. After a brief exploration of fiber & pattern choice, we will look at swatching best practices that go far beyond gauge. We will also take a peek into the pattern to see what it will and won't tell us. Next we will delve into specific knitting techniques
to discover a host of "the pattern never told you that" knitting refinements; from better cast ons, ways to improve the look of your rib, shaping, shoulders and over all fabric as well as a few fantastic bind offs. Finally we'll address some finishing issues that plague many a knitter, when we explore the best practice for picking up stitches, (including the oh so tricky button band on a v neck trauma) as well as the best way to set in a sleeve. Discover the secrets and make this the year of your perfect sweater!

Join our Saturday Sit-and-Knit sessions and get help preparing your swatches for our classes with Patty Lyons!

Prerequisite Must know long tail cast on, Knit/purl; cast on/bind off; increase/decrease; have knit a whole garment; basic finishing techniques; knowledge of short rows optional. Will go over short row options in patterns, will not be teaching short rows. NOTE: If you're not sure whether you have the appropriate skills for this class, please stop in and talk to us!
Yarn worsted or chunky weight yarn in a light color (to make your swatches), plus an extra ball of yarn
Needles Needle 1 size smaller than you used to make your swatch. Empty needle for casting on.
Notions Scissors
Homework You will need to make the following 2 swatches:
Swatch 1
CO 28 work in
Row 1: *K3, P2* repeat from * to * to last three stitches K3
Row 2: *P3, K2* repeat from * to * to last three stitches P3
Work for 2" in the rib stitch as established, leave on needle
Swatch 2
CO 15 St
Work in stockinette (alternating rows of knit and purl) for 18 rows ending with WS row
(RS) K2, k2tog, work to end of row — 14
(WS) purl back
Rep last two rows 9 times — 5 st
BO
Patty Lyons is a nationally recognized knitting teacher and technique expert who is known for teaching the "why" not just the "how" in her pursuit of training the "mindful knitter". She specializes in sweater design and sharing her love of the
much-maligned subjects of gauge and blocking.

Patty teaches nationally at guilds & knitting shows around the country such as Vogue Knitting LIVE, STITCHES, and the Knit and Crochet Show!

Patty's designs and knitting skill articles have been published in Vogue Knitting, Interweave Knits, Knit Purl, Knitter's Magazine, Cast On, Knit Style, and Creative Knitting magazines, where she also writes a knitter's advice column called "Patty's Purls of Wisdom".