Click here for where we are located and to contact us.
Sarah Phillips is the owner of
Intown Quilters
. She is a wife and mother of two who was born in California and grew up in Atlanta. After moving away for over ten years, she and her husband, Richard Kahn, moved back to Atlanta to raise their children close to family. Sarah takes great pride in her quilt shop (celebrating 17 years), all her wonderful employees, the customer service they provide and all the fabulous customers she encounters in her daily life. Intown Quilters would not be what it is without all the folks involved.
OTHER SERVICES
Sewing Machine Repair
and Scissor Sharpening
Steve Nixon of Keep on Stitching is in the shop on Fridays from 11-2ish. You can drop your machine off earlier in the week and he will call you about it. Or come in on Friday morning to talk with him directly. Steve also sharpens scissors.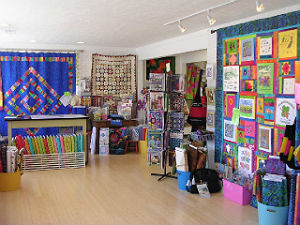 Quilt Repair
Sheila Blair repairs quilts through Intown Quilters from September-early May. Drop a quilt off in a bag with your name and phone number attached. She will evaluate your quilt and get back to you with an estimate of the repair cost and likelihood of success. If you would like to contact her first, please email the shop with your request and we will forward it to Sheila.
Long Arm Quilting
Regina Carter picks up and drops off quilts at Intown Quilters on the 2nd Tuesday of the every month. You can leave a quilt top and back ready to quilt, with your name and phone number attached, and Regina will call you about it once she has it. Regina does have a waiting list sometimes so if you are in a hurry, stop by the shop and we will give you the cards of several other good long arm quilters you can call on.