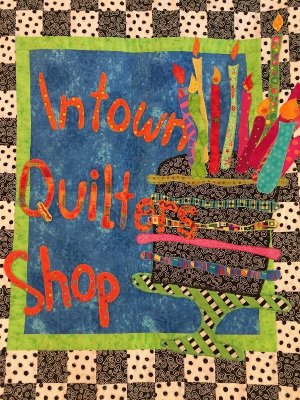 Intown Quilters is turning 13! Wow! It seems like just yesterday that we opened our doors on Zonolite Road. Now we're just like every other teenager: 13 going on 30 -- and loving every minute of it!

Come celebrate our birthday with us on Thursday, Aug. 20, when everything* is 13 percent off until 6 p.m. But the celebration continues from 7-9 p.m. with a pajama party. Yeah, we're gonna party like it's our birthday -- because it is! -- and if you join us in your jammies, you'll receive 30 percent off your purchase. (Prefer not to venture out in your PJs? We totally understand! You can still receive 13 percent off from 7-9 p.m.) And because no party would be complete without goodies, we'll have some fun party favors to pass out, too. *Everything includes regular priced and discounted merchandise but not classes or special orders.

Don't forget now is the time to sign up for one of the upcoming Jen Kingwell workshops. We are so excited to be working with The Green Apricot to bring Jen to Atlanta. Each workshop focuses on hand piecing the specific pattern and includes lunch. Workshops are limited to 20 participants. Each workshop costs $165 plus supplies. Trunk shows are limited to 40 participants.

Sign up for events at The Green Apricot:

Sign up for events at Intown Quilters:

Because of the commitments related to scheduling an international teacher of this caliber, we have made a change to our usual class cancellation policy: Any cancellations for the Jen Kingwell workshops must be done by the end of the day on Oct. 2 in order to receive a full refund. After Oct. 2, we will only issue a refund (less a 20 percent cancellation fee) when we have secured a replacement for your spot from our waiting list. Please take a moment to check your calendar to ensure you will be able to attend the workshop for which you are registered.

Thanks for 13 great years of fabric, fun and friends!

Happy sewing!
Sarah & the IQ gang

P.S. We've added lots of classes to the calendar for the next couple of months, including Quilting Studio, Sewing Studio and a weekday Beginning Quiltmaking, as well as a brand-new Paper Piecing Club. Be sure to scroll down for all the details.

Happy sewing!
Sarah & the IQ gang

2015 Row by Row Experience



Ollie says, "Join me under the 7 seams with Intown Quilters for this year's Row by Row Experience!" Last year was our first time taking part in this innovative, national shop hop and we're excited to again be involved. This year all 50 states have participating shops!

Row by Row is a fun shop hop like no other: No fees, no cards to stamp, and you've got all summer to play! Simply visit any of the participating shops and receive a free pattern for a 9-1/2"x36-1/2" quilt row. Combine your rows however you'd like, to create a unique quilt that represents the fun you had traveling throughout the summer. Best of all, you can take your finished quilt to any participating Row by Row shop (the sooner the better as only one person per shop wins) to win a fabulous prize! Check out the map of all the participating shops here and our shop details here.

2014/2015 Clubs


Paper Piecing Club
Come join our paper piecing teacher Wanda Earley as she leads a monthly paper piece sit-and-sew club. We will get together and work on foundation paper pieced projects. This is the time where you can bring in any project that you are working on or want to begin working on and we can help/encourage/get inspired by each other. This group will meet from 4:30-7:30 p.m. on the 1st Tuesday of the month beginning in September. The club is $10/month or $60 for the year (a 50% discount over the month-to-month option).

By Hand-the Art of Slow Quilting
Sometimes it is good to take a break from doing everything fast. Handwork is a great way to slow down and enjoy the process of creating. When you do handwork, you can often take it with you to take advantage of times when you are just waiting for something else, you can actually talk to friends and family while working on your projects, and it is relaxing. We will get together and work on quilting projects by hand - hand piecing, English paper piecing, hand appliqué, hand quilting. This is the time where you can bring in any project that you are working on or want to begin working on and we can help/encourage/get inspired by each other.This group will meet on the 3rd Saturday from 9:30am-1pm. $5 per month.

Shirley's IQ Club
May saw the end of the first year of Shirley's IQ Club -- which means we're gearing up for Year 2! Shirley's had a blast planning fun projects over the past year and the sneak peeks she's given us for the coming year make it clear why this club is so popular. You can sign up a month at a time for $10 or pay $60 for the whole year.

Classes

Classes are listed below and on the website.

Don't put off signing up for a class you are interested in because some fill up quickly and you don't want to miss out because you forgot to sign up right away.

*You should receive a class supply list about 2 weeks prior to the class by email unless you have stopped by the shop to get one in person.

*Class cancellation policy

You can cancel a class up to two weeks prior to class for a full refund. We will only cancel a class if we have to. If you miss a class we can try to get you in the next class with a fee (fee is determined by the length of the class) to cover the lost spot in that class.


Sewing machines are required for classes

All classes that have sewing involved in them, require you to bring your own sewing machine. We may have one you can borrow but it is best for you to sew on a machine that you are used to. For beginners, it is best to learn on a machine that you will use at home so you can work on your own at home later. Basic sewing machines are all that you need. If you are unsure of staying with sewing and do not want to buy a machine, then ask around of friends and family to borrow one for awhile so you can sew at home and really test out your interest. If you do borrow a machine or buy a used machine, it is highly advised that you get the machine serviced before coming to a class, because machines that have not been used regularly tend to act up as soon as someone tries to use them, which seems to happen in the middle of classes. You don't want to have a frustrating first class experience because the machine was not in good condition to sew.

Tuffet
9/9 & 9/16 10:30 a.m.-1:30 p.m. $80
Come join Karen & Ken from A Scarlet Thread as they teach you how to construct your very own tuffet! This is such a fun way to personalize your home with some of your favorite fabrics. This class takes place over two sessions one week apart. Please note that the second session is for assembly of the tuffet, so you will need to get all of your sewing done and be ready to put it all together then. There is a $100 tuffet finishing kit fee payable to the instructor on the first day of the class.

Beginning Quilt-Making
9/17, 10/1, 10/15 & 10/29 Thursdays 10 a.m.-2 p.m. $120 JUST ADDED!
This class fills up quickly so don't hesitate! Learn to make a lap-size quilt from beginning to end. In this class, the intimidation of quilting will be eliminated. You will be taught many techniques and rules, such as cutting, strip piecing, seam allowance, pin-basting, quilting, binding and more. The class is taught in 4 sessions (4 hours each) and requires homework and a sewing machine. A sense of humor is also helpful. Taught by Maxine Moore. A sewing machine is required for this class, but you do not need to know how to sew. It is helpful to know how to thread your machine and wind the bobbin, though.

Sewing Studio
9/12 & 9/19 1:30-4:30 p.m. $75
Finished our Sewing Basics and ready to tackle a new challenge? Bring the clothing or purse pattern of your choice (with all the supplies listed on the back of the pattern) and our instructor will help you from start to finish. Get help choosing the proper size, cutting, construction and finishing techniques. Given the individualized nature of this class, class size is limited to four students. Taught by Mary Abreu.

Quilting Studio
9/20 1-5 p.m. $75
Do you have a quilt you'd like to get started on but feel just a little intimidated about jumping in? What about one you'd like to get finished but can't figure out exactly what the pattern is telling you, or can't find the time to make yourself get it done? Quilting Studio might be the class you need! Four uninterrupted hours of help from an accomplished and knowledgeable teacher. Bring your pattern/project and let Patty Murphy help you get started, motivated or finished. Students in this class should have some experience piecing a quilt and a familiarity with the skills involved, including but not limited to using a rotary cutter and ruler, reading a pattern, etc.

Bias Binding
10/4 1:30-5:30 p.m. $55
Learn to make your own bias binding, which is an essential technique for finishing off your quilts. You will learn two different techniques for making binding that will take the fear of binding away forever. You'll learn to love binding. Taught by Patty Murphy.

Serger Techniques
10/10 10 a.m.-noon $50
Do you want to learn how to better use your serger? Bring it and the manual for it to this class, and Mary Abreu will walk you through how to use the machine and several stitch techniques to do with the machine. Most materials will be provided. You just need your machine, the manual and thread for your machine. Taught by Mary Abreu.

Modern Surprise
10/11 10 a.m.-5 p.m. $110
Shirley Paine is back with Modern Surprise! This day-long workshop will take you through the process of creating a modern quilt we think you're going to love. Class participants will receive the pattern book (included in the cost of the class) on the day of the workshop.
Coupons
We have our IQ loyalty program, which is good for 20% off all regularly priced merchandise. Ask for a card when you come in next if you do not have one already. You get stamps when you shop so make sure to get it out when you get ready to pay each time you visit.

We do occasionally give out coupons during shop hop and other special events like quilt shows. Coupons cannot be used on special orders or sale items, cannot be combined and there are no rain checks.
Help Dalton Davis
Many of you probably remember Dalton Davis, who used to work at the shop before he went off to college. Dalton was a foster kid in Atlanta and now is on his own trying to make his way through college. He needs our help now. He has never gotten enough money from the state and scholarships to cover his living expenses, books and supplies for school so I have been helping him the past four years, along with some regular help from a few of our very dedicated (and generous) customers, who Dalton and I thank very much! I am reaching out to you again because this talented young man really could use some financial help continuing his education. If you are willing, click on this paypal button to make a donation or mail or drop by cash or a check made out to Dalton Davis. Anything will help.