We're back from the whirlwind of International Quilt Market and are chock full of ideas, inspiration and great new things that already are showing up here at the shop. As you can see from the picture, we work hard at Market to find all the latest and greatest things for you to use in your quilting, sewing and crafting projects. Come to our Quilt Market Recap at noon on Saturday, Nov. 7, to get a peek at some of our favorite finds at the industry trade show. Don't be late -- you might miss out on some great things! And we'll be taking some pre-orders at the Market Recap (with a 20% discount) so it's a great chance to reserve your favorites at a great price. Sign up today to guarantee a spot at this fun event!

Speaking of November ... don't forget to set your clocks back one hour when you go to bed Saturday night because Daylight Saving Time starts on Sunday.


We returned from Houston a little water logged and weary but perked right up when we found boxes of Alison Glass awaiting our return. Handcrafted Indigo is a collection of hand-printed batiks in a soothing palette of blues, featuring Alison's awesome artwork. The collection was soon joined by Alison's Abacus, a low-volume collection of prints designed to be used as backgrounds -- but why limit yourself? They're great on their own or with a punch of color to balance the light. And we are so excited about the return of the Ex Libris Chambrays (also by Alison Glass!). Our initial order of these fabrics sold out in two weeks; grab them before they disappear again!

Watch your email on Monday, Nov. 2, as we launch our Sampler Block Shuffle. It's a great limited-time program with Moda Fabrics and we can't wait to introduce you to the #ModaSamplerShuffle!

We are so excited to be welcoming Jen Kingwell to the shop next week! We've had a last-minute spot open in My Small World on Monday, Nov. 2. And there are still a few spots open in her last workshop at IQ, Georgetown on My Mind, on Wednesday, Nov. 4. And The Green Apricot still has a couple of spots in Nov. 5's . Spring Fever. Sign up before you miss out!

We've added a sew-in day on Nov. 11 to make "fidget quilts" for Alzheimer's patients. Our coworker Pam Prouty lost her father this year following years of living with Alzheimers, and many of us have been touched by this illness. We'll start out with a brief information session about making fidget quilts and provide some donated fabrics you can use to make a quilt (or two). Participants are welcome to sit and sew in our classroom until 5:30. Completed quilts will be donated to local Alzheimers/dementia patients.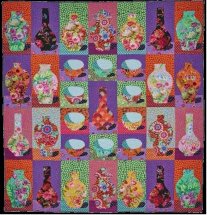 In honor of Kaffe Fassett's 20 years of designing fabric, a limited edition quilt kit called Bowls & Vases will be released this December -- and you can reserve yours NOW from IQ! This 20th Anniversary Quilt features the first printed fabric that Kaffe designed for Rowan – leafy Roman Glass. It also includes some of the most recent fabrics designed by all three Kaffe Fassett Collective artists: Philip's Floral Delight, Brandon's Jumble, and Kaffe's Dream – all from the 2015 Spring collection. The quilt, inspired by a still life painting that Kaffe made in the 1980s, was designed by Kaffe and Liza Prior Lucy. We have ordered a limited number of these kits and will not be able to re-order them.

Happy sewing!
The IQ Crew

P.S. We are excited that the IQ Crew will be growing by one in December when our coworker Nia Williams welcomes a baby boy! She is registered at Target and we are planning a surprise baby shower at 1:30 p.m. on Thursday, Nov. 12 -- but shhhhhhh! Don't tell her!

Kaffe Mini Quilt Challenge & Swap


We've started planning our birthday party for Kaffe this December, and we want you to help us celebrate... By participating in our mini quilt challenge and swap! Here are the rules to participate:

1. Buy any three 1/4 yard cuts (or fat quarters) of Kaffe Fassett Collective fabrics (Kaffe, Brandon Mably, or Philip Jacobs) from IQ, in the store or on via the website, to be entered into the challenge group.

2. Make a mini quilt using only KFC fabrics (including shot cottons and stripes). Your quilt should be a minimum of 12" per side, and a maximum of 24" per side. You can use any technique you like -- traditional piecing, English Paper Piecing, applique ... whatever strikes your fancy! The mini must be quilted and bound to be entered into the challenge.

3. Turn in your completed mini quilt to IQ by 2 pm on Saturday, December 5.

4. This challenge and swap is open to both local and out-of-town* participants!

5. We will have gift certificates (the amount to be determined when we see the number participating….the more participants, the higher the gift certificates) as prizes for the top three minis.
*Please email us for long-distance participation details.

From 2 to 4 pm on Saturday, December 5, we will have a quilt hanging/birthday party for Kaffe! If you'd like to help us hang the quilts, come on over right at 2 pm. We'll have birthday cake and lots of fun! At the end of the party, we will take photos of the challenge minis. These photos will be posted online and emailed to Kaffe as a birthday gift! Kaffe will look at the entries and pick his winning mini quilt. Your mini could be his favorite!

The challenge minis will hang in the IQ classroom through the month of December to help us celebrate Kaffe's birthday. After the start of the new year, we will swap minis! The swap will be done by random drawing, so if you enter a mini into the challenge, you'll receive someone else's mini entry in return. It'll be like an extra gift after the holiday season is over!

We hope you'll join us in this fun challenge to celebrate Kaffe's birthday! If you have any questions, or if you're ready to dive into the challenge, please call, email, or stop by and we'll be happy to help!

2015 Clubs


Paper Piecing Club
Come join our paper piecing teacher Wanda Earley as she leads a monthly paper piece sit-and-sew club. We will get together and work on foundation paper pieced projects. This is the time where you can bring in any project that you are working on or want to begin working on and we can help/encourage/get inspired by each other. This group will meet from 4:30-7:30 p.m. on the 1st Tuesday of the month beginning in October.The club is $10/month or $60 for the year (a 50% discount over the month-to-month option).

By Hand-the Art of Slow Quilting
Sometimes it is good to take a break from doing everything fast. Handwork is a great way to slow down and enjoy the process of creating. When you do handwork, you can often take it with you to take advantage of times when you are just waiting for something else, you can actually talk to friends and family while working on your projects, and it is relaxing. We will get together and work on quilting projects by hand - hand piecing, English paper piecing, hand appliqué, hand quilting. This is the time where you can bring in any project that you are working on or want to begin working on and we can help/encourage/get inspired by each other.This group will meet on the 3rd Saturday from 9:30am-1pm. $5 per month.

Shirley's IQ Club
Year Two of Shirley's IQ Club is in full swing and the fun projects and patterns just keep rolling in. Shirley's had a blast planning for the coming year and the sneak peeks she's given us make it clear why this club is so popular. You can sign up a month at a time for $10 or pay $60 for the whole year.

Classes

Classes are listed below and on the website.

Don't put off signing up for a class you are interested in because some fill up quickly and you don't want to miss out because you forgot to sign up right away.

*You should receive a class supply list about 2 weeks prior to the class by email unless you have stopped by the shop to get one in person.

*Class cancellation policy

You can cancel a class up to two weeks prior to class for a full refund. We will only cancel a class if we have to. If you miss a class we can try to get you in the next class with a fee (fee is determined by the length of the class) to cover the lost spot in that class.

Georgetown on My Mind
11/4 10 a.m.-5 p.m. $165
Join Jen Kingwell as she teaches the ins and outs of handpiecing her pattern, Georgetown on My Mind! Any cancellations for the Jen Kingwell workshops must be done by the end of the day on October 2 in order to receive a full refund. After October 2, we will only issue a refund (less a 20 percent cancellation fee) when we have secured a replacement for your spot from our waiting list. Includes lunch.

Hexie Boot Camp
11/7 2-5 p.m. $45
There is so much more you can do with English paper piecing than the time honored Grandmother's Flower Garden. The instructor will provide papers for hexagon play and other shapes. This is such a fun portable sewing project. This is a technique class taught by Mary Lou Mojonnier.

Fidget Quilts for Alzheimers
11/11 11:30 a.m. FREE
Join IQ for a day of planning (and making) "fidget quilts" for Alzheimers/dementia patients. Our coworker Pam Prouty lost her father, who had Alzheimers, this year, and many of us have been touched by this illness. We'll start out with a brief information session about making fidget quilts and provide some donated fabrics you can use to make a quilt (or two). Participants are welcome to sit and sew in our classroom until 5:30. Completed quilts will be donated to local Alzheimers/dementia patients.

Machine Quilting II: Free-motion Quilting
11/14 10 a.m.-1 p.m. $45
A practice session to explore some of the many possibilities of free motion machine quilting. Includes planning the quilting design and filling the space. Students must have experience machine quilting. Students must bring their own sewing machine capable of free motion quilting: ie, a free motion foot and the ability to lower the feed dogs. Book required: Machine Quilting by Sue Nickels. Taught by Taffy McLaughlin.

Intermediate Paper Piecing
11/15 1:30-5:30 p.m. $45
Take your paper piecing knowledge to the next level. You'll learn to paper piece more advanced block and sew curved pieces. Wanda will give you lots of tips and hints to make your paper piecing easier. Must have basic knowledge of paper piecing and/or have taken the intro to paper piecing class. Taught by Wanda Earley.

Hand Applique 101
11/21 2-5 p.m. $45
Learn how to hand appliqué with Mary Lou Mojonnier, featured in Appliqué magazine. Mary Lou will cover all aspects of appliqué, from selecting fabric, needle and thread, to preparing templates and stitching the needle-turn method.

Cathedral Window
12/5 1:30-5:30 p.m. $45
Have you ever been interested in the cathedral window block, but have yet to commit to figuring it out? Let's do it together! This class will be taught using your sewing machine instead of finishing by hand. We will make 2 blocks, which we will make into a tote. This is a skill class, taught by Sarah Oliver.

Hand Quilting
12/6 2-5 p.m. $45
Learn to hand-quilt. This class will introduce you to hand-quilting stitches. You will also learn about the different types of frames, batting, needles and threads used in hand quilting. This class does not teach you have to piece anything, only to do the quilting stitches that hold the three layers of a quilt together. Taught by Sheila Blair. Limit 6
Coupons
We have our IQ loyalty program, which is good for 20% off all regularly priced merchandise. Since launching our new computerized point-of-sale system, we are changing from paper cards to an electronic rewards system. No more forgetting your cards at home! We are happy to add your existing IQ cards to our system; just bring them in with your name and email address written on them.

We do occasionally give out coupons during shop hop and other special events like quilt shows. Coupons cannot be used on special orders or sale items, cannot be combined and there are no rain checks.
Help Dalton Davis
Many of you probably remember Dalton Davis, who used to work at the shop before he went off to college. Dalton was a foster kid in Atlanta and now is on his own trying to make his way through college. He needs our help now. He has never gotten enough money from the state and scholarships to cover his living expenses, books and supplies for school so I have been helping him the past four years, along with some regular help from a few of our very dedicated (and generous) customers, who Dalton and I thank very much! I am reaching out to you again because this talented young man really could use some financial help continuing his education. If you are willing, click on this paypal button to make a donation or mail or drop by cash or a check made out to Dalton Davis. Anything will help.