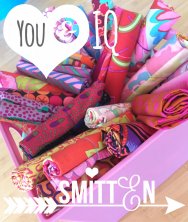 We're feeling the fabric love here at Intown Quilters, not just on Valentine's Day but every day. This weekend (Saturday and Sunday), we're showing you the love and giving you a free fat quarter with your purchase, while supplies last.

Our pink basket is all loaded up with some of our favorite fabrics and we know you're going to be just as smitten with the pretty as we are. Stop in, shop and go home with a little something extra from your friends at Intown Quilters!



It may only be February but it's never too early to sign up for summer camp. Sew * Craft * Quilt Summer Camp at Intown Quilters is the place to be for kids 11* and up this summer! *

Campers younger than 11 with machine sewing experience may be enrolled with teacher approval

. This year, we're hosting five weeks of camp -- with dates in both June and July -- that cover things like apparel sewing, quilting, accessories, room decor and more. This year's camps are:

6/13-6/17 Apparel, taught by Mary Abreu
6/27-7/1 TBA, taught by Fonde Werts
7/11-7/15 TBA, taught by Fonde Werts
7/18-7/22 TBA, taught by Fonde Werts
7/25-7/29 TBA, taught by Mary Abreu

We're still firming up themes for a few weeks of camp and would love your feedback. Just reply to this email and let us know what things your camp-aged kid is interested in making this summer, as well as camp dates you are interested in: Apparel? Room decor? Quilts? Accessories?

If sleep-away camp is on your kid's summer schedule, then don't miss our 90-minute pillowcase workshops! Bring the fabric and a sewing machine and our teacher will help your kids whip up a one-of-a-kind pillowcase to take to camp this summer. We've got two sessions at the start of the summer -- perfect for getting kids ready for the adventures that await them in June and July!

We're so excited about this year's block-of-the-month programs! The response to our Glorious Hexagons handwork BOM has been out of this world and we think you're going to be just as excited about our other two BOM quilts:


Join us on a machine and handwork adventure creating Jen Kingwell's My Small World quilt! We fell in love with this pattern when it debuted in Quilt Mania magazine so it was no surprise that we asked Jen if she'd teach it during her visit to IQ last year. Leslie has been sewing blocks and pulling this quilt together and we think you're going to just love it! IQ's Small World BOM meets on the fourth Saturday of the month for 6 months, starting 4/22, at 9:30 a.m.

Cost is $120 (quilt top fabric is included) and the book My Small World by Jen Kingwell is required (save 20% off the book after you sign up for this BOM).





For folks who love a more traditional sampler quilt, have we got a great one for you! We've taken Leila Gardunia's book You Can Quilt! and put a decidedly IQ spin on it. Lots of bright, fun Kaffe Fassett prints that we love, in a variety of blocks that make for a quilt that covers a variety of techniques. She's still working on her sample; here's a sneak peek of four of the blocks. Sandy has created a fun on-point setting but she will also show you a more traditional sampler setting and an even more modern setting, too. Sandy's You Can Quilt! BOM meets on the 2nd Saturday of the month starting April 9, at 9:30 a.m. Cost is $220 (quilt top fabric is included) and the book You Can Quilt! is required (save 20% off the book after you sign up for this BOM). Watch our newsletter next week for a link to sign up to monthly billing through Paypal for You Can Quilt! BOM.

Happy quilting,
Sarah & the IQ crew


P.S. The Greater Atlanta Quilt Shop Hop is just around the corner! This year's Shop Hop is March 9-13 and overlaps the Original Sewing & Quilting Expo in Duluth. Why not plan a weekend with your stitchy friends and visit both? Follow the Greater Atlanta Shop Hop Facebook page to keep up with our plans and find more details.

Glorious Hexagons


This year's handwork BOM is one of our favorite quilts from Fall Quilt Market: Glorious Hexagons! Liza Prior Lucy and Kim McLean used Katja Marek's The New Hexagon (the basis of our 2015 Hexy BOM), along with some blocks of their own design with the stunning fabrics from the Kaffe Fassett Collective.

Our Glorious Hexagons Club kicks off the first Saturday in February 2016. Join Mary Lou Mojonnier at Intown Quilters for a 12-month stitch along to create your version of these quilts using The New Hexagon and a booklet from Liza and Kim. Your Glorious Hexagons Club membership includes the supplemental booklet by Liza and Kim, monthly meeting time with Mary Lou and a 3" acrylic hexagon template, as well as EPP papers each month, cut specifically for these stunning quilts from Paper Pieces.

We've set up a monthly subscription through PayPal (PayPal account required); just click here to sign up. IQ's Glorious Hexagon's Club is $62.50 for the first 3 months and $18.50/month for the remaining 9 months. If you prefer to not use the Paypal monthly subscription system, you can pay for the full year all at once in the shop or on the phone.

Head to the Glorious Hexagons listing on our website for all the details (including shipping options for out-of-towners) and to sign up!

2015-16 Clubs


Paper Piecing Club
Come join our paper piecing teacher Wanda Earley as she leads a monthly paper piece sit-and-sew club. We will get together and work on foundation paper pieced projects. This is the time where you can bring in any project that you are working on or want to begin working on and we can help/encourage/get inspired by each other. This group will meet from 4:30-7:30 p.m. on the 1st Tuesday of the month. The club is $10/month.

By Hand-the Art of Slow Quilting
Sometimes it is good to take a break from doing everything fast. Handwork is a great way to slow down and enjoy the process of creating. When you do handwork, you can often take it with you to take advantage of times when you are just waiting for something else, you can actually talk to friends and family while working on your projects, and it is relaxing. We will get together and work on quilting projects by hand - hand piecing, English paper piecing, hand appliqué, hand quilting. This is the time where you can bring in any project that you are working on or want to begin working on and we can help/encourage/get inspired by each other. This group will meet on the 3rd Saturday from 9:30am-1pm. $5 per month.

Shirley's IQ Club
Year Two of Shirley's IQ Club is in full swing and the fun projects and patterns just keep rolling in. Shirley's had a blast planning for the coming year and the sneak peeks she's given us make it clear why this club is so popular. You can sign up a month at a time for $10.

Classes

Classes are listed below and on the website.

Don't put off signing up for a class you are interested in because some fill up quickly and you don't want to miss out because you forgot to sign up right away.

*You should receive a class supply list about 2 weeks prior to the class by email unless you have stopped by the shop to get one in person.

*Class cancellation policy

You can cancel a class up to two weeks prior to class for a full refund. We will only cancel a class if we have to. If you miss a class we can try to get you in the next class with a fee (fee is determined by the length of the class) to cover the lost spot in that class.



Sewing Basics
2/20 & 3/5 10 a.m.-1 p.m. $75
4/17 & 4/24 1:30-4:30 p.m. $75
5/21 & 5/28 9:30 a.m.-12:30 p.m. $75
Have you always wanted to learn how to sew? Did you take home ec in junior high but haven't sewn since? This is the class for you! This 6-hour course (broken into two 3-hour sessions) covers all the basics to get you sewing. You'll learn the parts of a sewing machine, how to thread it (including how to wind a bobbin), sewing terminology, essential tools, how to read a pattern and more. Students complete a small project in the first class; the second half of the class is spent sewing a larger project (a roomy tote bag with patch pocket). Taught by Mary Abreu.

Sewing Studio
3/6 1-5 p.m. $55
5/15 1-5 p.m. $55
Finished our Sewing Basics and ready to tackle a new challenge? Bring the clothing or purse pattern of your choice (with all the supplies listed on the back of the pattern) and our instructor will help you from start to finish. Get help choosing the proper size, cutting, construction and finishing techniques. Given the individualized nature of this class, class size is limited to four students. Taught by Mary Abreu

Lizzy House Meadow Workshop

3/20 10:30 a.m.-5:30 p.m. $200

Lizzy House was inspired to create the Meadow Quilt and decided against releasing it as a pattern; instead, she's teaching it only as a class.

Each workshop focuses on creating the Meadow block, which students then can use to make a full Meadow Quilt on their own.

Classes include lunch and are each limited to 14 participants. As always, we are offering workshop participants a discount on the supplies used in these classes! We will email you a supply list once we receive one from Lizzy but do not expect the list until after the first of the year.

Because of the commitments related to scheduling a teacher of this caliber, we have made a change to our usual class cancellation policy: Any cancellations for the Lizzy House workshops must be done by the end of the day on

Jan. 21, 2016, in order to receive a full refund. After Jan. 21, we will only issue a store credit (less a $5 cancellation fee). Please take a moment to check your calendar to ensure you will be able to attend the workshop for which you are registered.

Introduction to Hand Embroidery
4/2 1:30-4:30 p.m. $45
Have you been admiring all the patterns available that incorporate embroidery designs into quilting, bags, kitchen accessories, etc? Patterns from designers like Crabapple Hill and This and That are bringing us a new, fresh approach to using embroidery in our quilting and sewing. In this class, we will discuss transfer techniques, fabric choices, and basic embroidery to get you ready to make your own project. Taught by Wanda Earley

Serger Techniques
4/9 10 a.m.-noon $50
Do you want to learn how to better use your serger? Bring it and the manual for it to this class, and Mary Abreu will walk you through how to use the machine and several stitch techniques to do with the machine. Most materials will be provided. You just need your machine, the manual and thread for your machine. Taught by Mary Abreu.

Intermediate Paper Piecing
4/23 noon-4 p.m. $45
Take your paper piecing knowledge to the next level. You'll learn to paper piece more advanced block and sew curved pieces. Wanda will give you lots of tips and hints to make your paper piecing easier. Must have basic knowledge of paper piecing and/or have taken the intro to paper piecing class. Taught by Wanda Earley.

Coupons
We have our IQ loyalty program, which is good for 20% off all regularly priced merchandise. Since launching our new computerized point-of-sale system, we are changing from paper cards to an electronic rewards system. No more forgetting your cards at home! We are happy to add your existing IQ cards to our system; just bring them in with your name and email address written on them.

We do occasionally give out coupons during shop hop and other special events like quilt shows. Coupons cannot be used on special orders or sale items, cannot be combined and there are no rain checks.
Help Dalton Davis
Many of you probably remember Dalton Davis, who used to work at the shop before he went off to college. Dalton was a foster kid in Atlanta and now is on his own trying to make his way through college. He needs our help now. He has never gotten enough money from the state and scholarships to cover his living expenses, books and supplies for school so I have been helping him the past four years, along with some regular help from a few of our very dedicated (and generous) customers, who Dalton and I thank very much! I am reaching out to you again because this talented young man really could use some financial help continuing his education. If you are willing, click on this paypal button to make a donation or mail or drop by cash or a check made out to Dalton Davis. Anything will help.