Reminder: Intown Quilters Fabric & Yarn
is now close
d on Wednesdays
In only two weeks, we'll welcome Nell Ziroli to IQ! Nell is a really fabulous teacher who used to live here and teach at Knitch but now lives in Norfolk, Va., -- and she's coming back just to teach for us. Nell is an accomplished knitter, designer and instructor, with a knack for creating color and texture -- and she's just a delight! We're excited to have Nell teach Simple Color Work Techniques as well as Hat Math on Saturday, 6/17.

On the sewing side, we still have spots open in our Dress No. 1 class and Hand Embroidery plus another Fabric Painting class is slated for July since so many of you asked us for another class. Don't miss out signing up for them!

It's been a busy week on the heels of Jen Kingwell's visit and we've been excited to open box after box of fabric. We are in the process of adding the entire range of Palette, a new blender from Marcia Derse and Windham Fabrics, and the first 20-plus bolts are here. Marcia's fabrics are some of our favorites and her Palette blender is no exception. It's a great near-solid basic and we think you'll like it just as much as we do.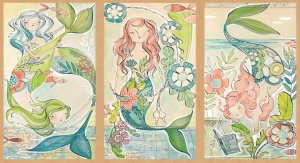 If you're a fan of Cori Dantini, then you'll be thrilled to know we've just added not one, not two, but three of her gorgeous lines with Blend Fabrics. Mermaid Days, Best Day Ever and Spooky Town caught our eyes at Quilt Market and we're tickled to bring them to you so quickly. Cori's whimsical artwork is guaranteed to make you smile -- and inspire you to make memorable quilts with the combination of panels and prints.

We love the wide range of designs we see from Robert Kaufman Fabrics and this week brings some of the best of that mix. Kasuri is a traditional Asian range of prints from Sevenberry, in bold graphic style and vivid colors of blues and reds with a bit of gold and natural. We always love the Artisan Batiks from RK and the newest additions to our batiks are no exception. Browns, blues and creams featuring striking motifs that work well whether you chop 'em up or show them off.

Jen Kingwell may have gone but there's more Jen on the way: Her new patterns and templates are due this month! Jen unveiled 10 new products at Quilt Market, including six patterns and four Tempters, her new line of single-block acrylic templates with instructions. We've got the entire range up for pre-order and they're expected in the shop later this month. Pre-order now to make sure you get your favorites!




June is also the month Row by Row kicks off! This is a fun, international shop hop where participants collect row patterns from shops all over the country (and even beyond). And did we mention the patterns are free?

Collect free row patterns from participating shops through Sept. 5. The "hibernation period" starts Sept. 6 and ends Nov. 1 when shops may sell their Row by Row patterns and kits -- including to customers online. Read all about the Row by Row Experience here and locate participating quilt shops here!


We're also excited to be participating in the inaugural Row by Row Junior program this year! Row by Row Junior is designed for kids ages 6 to 14. They travel along with an adult and collect free row patterns designed just for them.

Row by Row Junior follows the same rules and time schedule as adult Row by Row Experience, June 21 through Labor Day. Kids need to be in the shop to get the free pattern handout but anyone can buy a kit. (What a great gift or souvenir to bring home to the kids/grandkids!) We'll be awarding "I Made This!" ribbons to the first five kids who return with something made using a Row by Row Junior pattern.

Happy stitching,
Sarah & the IQ crew

P.S. Don't forget that Intown Quilters is now closed on Wednesdays. Of course, we're still open six days a week (including Sundays and until 8 p.m. on Tuesdays), and you can always shop our website, 24/7/365! Please share this news with all your friends since many of our customers do not get our newsletters and many who do, don't always read them.

CLASSES

Classes are listed below and on the website. Don't put off signing up for a class you are interested in because some fill up quickly and you don't want to miss out because you forgot to sign up right away.

Ongoing IQ Class Policies

* You should receive a class supply list about 2 weeks prior to the class by email unless you have stopped by the shop to get one in person.

* Students may set up their spaces no more than 15 minutes prior to the start of the class.

*Class cancellation policy: You can cancel a class up to two weeks prior to class for a full refund. We will only cancel a class if we have to. If you miss a class we can try to get you in the next class with a fee (fee is determined by the length of the class) to cover the lost spot in that class.

---

Quilting/Sewing Classes


---


Sit & Stitch
Fridays, 11 am-2 pm
Drop in any time during the posted hours for some quilt piecing by hand fun with friends! (We recommend bringing a snack so you can pop downstairs for a quick bite to stay energized for a full day of stitching.)



Dress No. 1
Sunday, 6/11/17, 1:30-5:30 pm $55
Dress No 1

from 100 Acts of Sewing is one of Jess's favorite garment to sew and wear. With just 2.5 yards of woven fabric required and sizes XS-4X available on one pattern, this is truly a project for everybody, even if you've never sewn clothing before! This

class

will cover sewing a simple A-line dress with straight seams and applying bias facing. All pieces of the pattern should be cut out of fabric prior to the start of the class (allot yourself an hour). Taught by Jess Seiz.



Introduction to Hand Embroidery
Sunday, 6/25/17, 1:30-4:30 pm $45


Have you been admiring all the patterns available that incorporate embroidery designs into quilting, bags, kitchen accessories, etc? Patterns from designers like Crabapple Hill and This and That are bringing us a new, fresh approach to using embroidery in our quilting and sewing. In this class, we will discuss transfer techniques, fabric choices, and basic embroidery to get you ready to make your own project. Taught by Wanda Earley.

Fabric Painting/Dyeing

Saturday, 7/29/17, 10:30 am-5:30 pm $95

This is a one-day workshop where you will learn how use the various kinds of fabric paints commercially available. It is for all levels of artistic skill. If you don't feel you have confidence in drawing or painting, it doesn't matter in this class, you will have a great time and go home with some very beautiful creative fabrics. Techniques you will learn; how to use the paints, directly with brushes, using commercial stamps, and making your own stamps, making/using stencils, resists, light imaging, Japanese Shibori techniques, using everyday objects to create texture, and much more. Come take this really fun one day workshop….it's fabric-making art camp. $10 materials fee on the day of the class in cash to the teacher. Taught by Casey Green.

Knitting/Crocheting Classes

---

Sit & Knit
Thursdays, 10 am-2 pm
Drop in any time during the posted hours for some yarn fun with friends! This is great for beginners especially, as knitting near more experienced knitters allows for you to get immediate help with questions and mistakes which then helps you learn to recognize mistakes yourself and gives you the practice time to get better with your knitting.
When possible the first hour of this time is dedicated to teaching folks how to cast-on and knit stitch. You can then sit and knit in the group which is a great way to get started because there is help nearby as you practice your knitting.
(We recommend bringing a snack so you can pop downstairs for a quick bit to stay energized for a full day of stitching.)

Simple Color Work Techniques
Saturday, 6/17/2017, 10 am-noon $45
In this 2-hour class, Nell covers simple and basic stranding techniques using sock weight self-striping yarn and a contrasting solid. You'll begin a pair of wrist warmers with that signature NellKnits color work style!Nell Ziroli loves the feel of wool between her fingers. She is a perpetual knitter, published designer and enthusiastic teacher. She comes from a family of knitters and otherwise crafty people and has been creating things by hand for as long as she can remember. She also feels at home in just about any kitchen.

Hat Math
Saturday, 6/17/2017, 1-4 pm $65
In this 3-hour class, students will build on the skills learned in knit and purl classes. There will be instruction of simple math based on the student's own measurements, to create a hat in a loose or fitted style. Simple written direction for ending this hat will be given. Students will leave with an understanding of how to create a hat pattern for any gauge yarn, to fit any head. Nell Ziroli loves the feel of wool between her fingers. She is a perpetual knitter, published designer and enthusiastic teacher. She comes from a family of knitters and otherwise crafty people and has been creating things by hand for as long as she can remember. She also feels at home in just about any kitchen.
BOMs/CLUBS

Long Time Gone
Finished quilt size: ~66" x67"
Meets the second Saturday of the month from 9:30-10:30 a.m. starting April 8


Long Time Gone is one of our favorite patterns from Jen Kingwell's October 2016 Quilt Market release and we're excited to offer it as a Block-of-the-Month program in 2017! Jen's penchant for scrappy quilt blocks arranged in unconventional settings have been a hit here at IQ and we think Long Time Gone will quickly be a must-sew quilt for you. This machine-pieced quilt includes a variety of scrappy blocks, mixing bold prints with low-volume background fabrics.

Sandy Stites will lead this group, which will meet on the second Saturday of the month from 9:30-10:30 a.m. starting April 8. Each month, participants will receive tips for creating that month's block(s).

We are offering two different fabric color stories for our Long Time Gone BOM participants. The Scrappy color story is a Jen-meets-IQ range of fabrics, mixing bright prints with low-volume fabrics. The Batik color story takes a rainbow of richly colored batiks and pairs them with neutral batiks for contrast.

The Long Time Gone BOM includes the pattern by Jen Kingwell (a $28 value) plus a quarterly sit-and-sew (dates to be announced later) during the course of the year. With either the Scrappy or Batik fabric options (fabric distributed monthly), the Long Time Gone BOM is $260 -- but if you sign up and pay in full before Feb. 28 the price will be only $230.

We've set up a monthly payment option through Paypal. You'll be charged $75 for the first month* and $20 per month the subsequent 11 months. *Down payment for the program is subject to change after February 28, 2017, to accommodate an abbreviated payment schedule.

Sign up for our Long Time Gone BOM bring-your-own fabric option for $148 -- but pay in full before Feb. 28 and the price is $130. Live out of town? No problem! We're happy to ship your BOM materials to you for an additional fee. Contact us for details.

Glorious Gardens
The first Saturday of the month starting in February 2017 and costs $60 for the class time. You can see all the details here.

The newest quilt-along from one of our favorite books, using those beautiful Kaffe Fassett fabrics we adore!

Kim McLean has created another incredible quilt using English paper piecing. Kim used a fun hexagon block, then partnered with Paper Pieces to create custom paper pieces packs and acrylic templates to make it easier for anyone to create this Glorious Gardens quilt -- including you!

Join Mary Lou Mojonnier at Intown Quilters for a 12-month stitch along to create your version of this quilt using a pattern booklet from Kim. You'll have the help and support of Mary Lou and a group of fellow hand piecers, too. What better way to spend a few hours once a month (or maybe even twice if you join the By Hand group on the 3rd Saturday here).

By Hand-the Art of Slow Quilting
Sometimes it is good to take a break from doing everything fast. Handwork is a great way to slow down and enjoy the process of creating. When you do handwork, you can often take it with you to take advantage of times when you are just waiting for something else, you can actually talk to friends and family while working on your projects, and it is relaxing. We will get together and work on quilting projects by hand - hand piecing, English paper piecing, hand appliqué, hand quilting. This is the time where you can bring in any project that you are working on or want to begin working on and we can help/encourage/get inspired by each other. This group will meet on the 3rd Saturday from 9:30am-1pm. $5 per month.

2017 UFO CHALLENGE

We're here to help you tackle those UFOs that have been hovering around your craft space. Our UFO Challenge has kicked off and we're excited that so many folks want to clear out the old to move on to the new.





Drop in and bring us a list of projects you want to finish with your name and contact info on it or use our handy online form to join the challenge. For every one of them you finish between now and

March 31st

, you'll be entered into a drawing for a $50 gift certificate and if the project was one you bought at Intown Quilters Fabric and Yarn, you'll receive an extra entry into the drawing.

Get two more drawing entries by posting a picture of your project as it is now (in the kit bag still, on the design wall, a collection or yarn or fabric in a pile) on Instagram then tag us -- @intownquilters -- and use the hashtag #intownquiltersUFOchallenge. Post a picture of the finished project with the same tags and you will get an extra entry for each of those two photos.



We even have a sewing and quilting UFO day scheduled to help you get things finished. If your UFOs are of the yarn variety, check out our Let's Knit a Sweater "support group" or drop in for one of our Sit & Knit sessions (days and times listed above).
COUPONS

We have our IQ loyalty program, which is good for 20% off all regularly priced merchandise. Since launching our new computerized point-of-sale system, we are changing from paper cards to an electronic rewards system. No more forgetting your cards at home! We are happy to add your existing IQ cards to our system; just bring them in with your name and email address written on them.





We do occasionally give out coupons during shop hop and other special events like quilt shows. Coupons cannot be used on special orders or sale items, cannot be combined and there are no rain checks.





www.intownquilters.com

Visit us six days a week at 1058 Mistletoe Rd, Decatur GA, 30033!
Open from 10 a.m.-6 p.m. Monday and Thursday-Saturday,
10 a.m.- 8 p.m. Tuesday and 1-6 p.m. Sunday
Closed Wednesdays.