Reminder: Intown Quilters Fabric & Yarn
is close
d on Wednesdays
There's been a crispness in the air the past few mornings, which has been a nice respite from the relentless heat of the past few weeks. That might be what's stirring up the craftiness in us, since we've been bustling around the shop, planning lots of fun, new projects! It has also stirred up Sarah's mood to clear out kits, bundles, books, yarn and patterns that we only have one or a few left of, so she gathered all kinds of things including some quilts, to put on a 50% off sale (since she just turned 50). We had so much fun watching people grab up things off this sale table in the front room over the weekend that we talked Sarah in to leaving it for a while longer and adding more to the table.

IQF&Y will be closed Sunday and Monday for the Labor Day holiday but don't forget that you can shop our website 24/7 (please note: weekend orders won't ship until after the holiday).

This is the last week you can pick up our 2017 Row by Row pattern and kits before the hibernation period starts on Sept. 6. We know you've been thinking about it -- and there's no better time to get your free Row pattern than now! Plus you're entered to win our weekly drawing when you stop by to get our pattern. This week, Mele Locey received a $5 shop credit just for picking up a free pattern. Don't forget that our Row by Row quilt contest starts next week. Scroll down to the Row by Row section of this newsletter for all the details on how you can still win at IQF&Y! Plus you can get a free "Go Stitch'n" Row by Row fabric license plate with your purchase of $50 or more.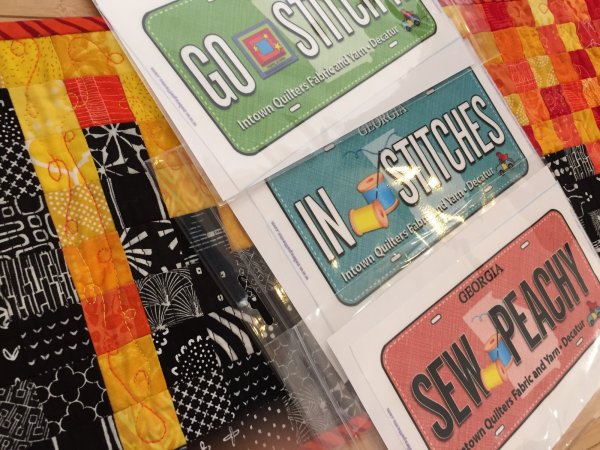 We've got plenty of ideas for the new Fossil Rim line by Deena Rutter. The Riley Blake Designs fabric has been getting lots of attention as we've moved it upstairs. What's not to love about dinosaurs? The line is perfectly on trend with its palette of gray, stone blue, navy and gold, and features a variety of print sizes that work for all your favorite quilt patterns.




We are again a drop-off site for the Georgia National Fair quilt competition! This is a great chance to enter your quilts and win fantastic prizes. The deadline to drop off your quilts is Sunday, 9/3/17, and the quilts will be returned to the shop for pick up after the Fair. Read all the rules here (click the link to go to the Georgia National Fair quilt entry form).

Are you ready to take your sewing to another level? Sign up for a class with us! Our classes with Libs Elliott at the end of September are a great chance to broaden your quilt horizons. We've still got a few spots for both workshops (as well as her lecture) but they are filling up fast. Our regular class offerings are a great way to invest in yourself, too. We've just added new sessions of Beginning Quilt Making, Sewing Basics, Serger Techniques, Knit Tee and Sewing Studio to our class calendar and more great classes are on the way.




Congratulations to this week's social media winner: Lindsey K. (krontronic on Instagram), who receives a $5 credit in her account! Share some of your IQF&Y projects in your Instagram and Facebook pages and tag us in your pics (@intownquilters, #intownquilters, #sewfunwithiq, #knitfunwithiq). We pick a random winner (we will assign numbers for that week's tags and use random.org to generate a winning number) from those who tag us in their photos of projects made with supplies from Intown Quilters Fabric & Yarn! Join our Ravelry group, Stitch Fabric & Yarn at IQF&Y, and any projects you share there are also eligible for our weekly $5 drawing.

Happy stitching,
Sarah & the IQF&Y crew

ROW BY ROW 2017
The 2017 Row by Row Experience is almost over! This year's theme is "On the Go!" and we're enjoying up a fun summer of rowing with participants from all over the world. We unveiled our 2017 row with a Facebook Live video (click the link to watch), plus we showed off our brand-new collectible fabric license plates for this year.

Collect free row patterns from participating shops all around the world through Sept. 5. The "hibernation period" starts Sept. 6 and ends Nov. 1 when shops may sell their Row by Row patterns and kits -- including to customers online. Read all about the Row by Row Experience here and locate participating quilt shops here!

We're also excited to be participating in the inaugural Row by Row Junior program this year! Row by Row Junior is designed for kids ages 6 to 14. They travel along with an adult and collect free row patterns designed just for them.

Row by Row Junior follows the same rules and time schedule as adult Row by Row Experience, June 21 through Labor Day. Kids need to be in the shop to get the free pattern handout but anyone can buy a kit. (What a great gift or souvenir to bring home to the kids/grandkids!) We'll be awarding "I Made This!" ribbons to the first five kids who return with something made using a Row by Row Junior pattern.


You can be a Row by Row winner!

We want to reward your Row by Row travels and sewing by promoting a slower, more creative and thoughtful approach to making your Row by Row quilt. Wait to turn in and leave your finished Row quilt at Intown Quilters between 9/6 and 10/31/2017 (the "hibernation period" of the Row by Row Experience). We'll be awarding prizes for the following categories:

1. A prize for the first Row quilt that comes in between 9/6 & 10/31/2017 that includes all 8 Rows from The Greater Atlanta Quilt Shop Hop shops. You'll have to research which shops take part in The Greater Atlanta Quilt Shop Hop, go to each to gather a Row, then make a quilt and turn it into IQ.

2. A prize for the quilt that includes a Row from the shop that's farthest away from Intown Quilters. Who is traveling this summer? Where to? We can't wait to see Rows from afar!

3. A 1st, 2nd and 3rd place Viewers' Choice Award. We'll hang all the Row quilts turned in between 9/6 & 10/31/2017, and then everyone who stops into the shop will be able to vote for her/his favorite. Encourage your friends and family to come in a vote for your quilt -- the most votes will win!


We're also doing weekly drawings all summer long as part of our Row by Row Experience event – and winning is easy. Each week, we'll randomly choose from those Row by Row participants to win a $5 IQFY shop credit. Ways you can be entered into the weekly drawings are:

Simply pick up your FREE Row by Row pattern at the cash register. We'll add your name, email address and phone number when you check out. Only one entry with FREE Row pattern.
Pop in to see what our weekly featured product is, snap a photo and post to your Instagram or Facebook page and tag us in it and we will add your name again.
For each friend you refer to the shop between now and 9/5, you'll get another entry.
CLASSES

Classes are listed below and on the website. Don't put off signing up for a class you are interested in because some fill up quickly and you don't want to miss out because you forgot to sign up right away.

Ongoing IQFY Class Policies

* You should receive a class supply list about 2 weeks prior to the class by email unless you have stopped by the shop to get one in person.

* Students may set up their spaces no more than 15 minutes prior to the start of the class.

*Class cancellation policy: You can cancel a class up to two weeks prior to class for a full refund. We will only cancel a class if we have to. If you miss a class we can try to get you in the next class with a fee (fee is determined by the length of the class) to cover the lost spot in that class.

---

Quilting/Sewing Classes


---


Sit & Stitch
Fridays, 11 am-2 pm
Drop in any time during the posted hours for some quilt piecing by hand fun with friends! (We recommend bringing a snack so you can pop downstairs for a quick bite to stay energized for a full day of stitching.)



Sewing Basics
Saturdays, 9/16 & 9/23/17, 10:30 am-1:30 pm $75
Have you always wanted to learn how to sew? Did you take home ec in junior high but haven't sewn since? This is the class for you! This 6-hour course (broken into two 3-hour sessions) covers all the basics to get you sewing. You'll learn the parts of a sewing machine, how to thread it (including how to wind a bobbin),sewing terminology, essential tools, how to read a pattern and more. Students complete a small project in the first class; the second half of the class is spent sewing a larger project (a roomy tote bag with patch pocket). Taught by Mary Abreu.

Serger Techniques
Sunday, 9/17/17, 1:30-3:30 pm $50
Do you want to learn how to better use your serger? Bring it and the manual for it to this class, and Mary Abreu will walk you through how to use the machine and several stitch techniques to do with the machine. Most materials will be provided. You just need your machine, the manual and thread for your machine. Taught by Mary Abreu.

Knit Tee
Tuesday, 9/19/17, 6:30-7:30 pm $10
Make an easy knit tee using your sewing machine or serger. So quick and easy, you won't believe it! This is a hands-on class with additional preparation required prior to the class. Pattern not included in class fee. Taught by Mary Abreu.

Sewing Studio
Sunday, 9/24/17, 1:30-5:30 pm $55
Bring the clothing or purse pattern of your choice (with all the supplies listed on the back of the pattern) and our instructor will help you from start to finish. Get help choosing the proper size, cutting, construction and finishing techniques. Given the individualized nature of this class, class size is limited to four students. Taught by Mary Abreu

Libs Elliott: Lecture
Friday 9/29/2017, 7:30-9:30 pm $15
Join Intown Quilters Fabric and Yarn for a two-hour lecture with code quilter and fabric designer Libs Elliott! Libs is a textile designer who explores the intersection of technology and traditional craft by using generative design to build handmade quilts. She studied Material Art & Design at OCAD University and lives and works in Toronto, Canada. Libs uses a programming language called Processing to randomly design her quilts, which gives her the ability to quickly edit the code and generate random compositions from simple geometric and traditional quilt block shapes. She has recently expanded her repertoire with fabric design, creating two lines of quilting fabric for Andover Fabrics, with a third collection due in October 2017.

Libs Elliott: Embrace the Chaos
Saturday 9/30/2017, 10:30 am-5:30 pm $175


Join code quilter and fabric designer Libs Elliott for a full-day workshop at Intown Quilters Fabric and Yarn! In this Saturday workshop, Libs will be teaching Embrace the Chaos. Using only paper and pencils -- no computers required! -- Libs will walk students through a series of worksheet exercises that mimic the programming language she uses to generate her quilt patterns. By using controlled elements in a random way, each participant will end up with a unique quilt pattern -- no two Chaos Quilts are the same!



Libs Elliott: The Weight of Love
Sunday 10/1/2017, 10:30 am-5:30 pm $175


Join code quilter and fabric designer Libs Elliott for a full-day workshop at Intown Quilters Fabric and Yarn!

Sunday's workshop will be The Weight of Love, a workshop-only quilt. The Weight of Love is made up of hex, half-hex and equilateral triangle pieces, and was designed randomly using Processing code. Students will spend the day making the Weight of Love their own by customizing it with fabrics and then building it using the Y-seam piecing method. Libs does a quick review and provides a take away on digital tools students can use to pull colors from their own photographs.


Beginning Quilt Making
Sundays, 10/8, 10/22, 11/5 & 11/19/2017, 1:30-5:30 pm $120
Learn to make a lap size quilt from beginning to end. In this class, the intimidation of quilting will be eliminated. You will be taught many techniques and rules, such as cutting, strip piecing, seam allowance, pin-basting, quilting, binding and more. The class is taught in 4 sessions (4 hours each) and requires homework and a sewing machine. A sense of humor is also helpful. Taught by Lisa Kaupp.


---

Knitting/Crocheting Classes

---

Sit & Knit
Thursdays 10 am-2 pm
Drop in any time during the posted hours for some yarn fun with friends! This is great for beginners especially, as knitting near more experienced knitters allows for you to get immediate help with questions and mistakes which then helps you learn to recognize mistakes yourself and gives you the practice time to get better with your knitting.

You can also learn how to get started knitting during our weekly sit and knit. Just reserve your spot for only $5 prior to that day (either in store, online or by phone) and we will make sure there is someone there dedicated to teaching you how for the first hour of the morning sit & knit. Then, you'll get that $5 back as a credit on your account after your class.

(We recommend bringing a snack so you can pop downstairs for a quick bit to stay energized for a full day of stitching.)

Saturday Sit & Knit
Saturdays 9/9, 10/14/2017, 10 am-noon, $5*
Stop in for our Saturday Sit-and-Knit and get help from our knitting experts. Held on the second Saturday of the month, based on sign ups. *Get a $5 credit in your shop account after the Saturday Sit-and-Knit.

BOMs/CLUBS

Long Time Gone
Finished quilt size: ~66" x67"
Meets the second Saturday of the month from 9:30-10:30 a.m. starting April 8, 2017


Long Time Gone is one of our favorite patterns from Jen Kingwell's October 2016 Quilt Market release and we're excited to offer it as a Block-of-the-Month program in 2017! Jen's penchant for scrappy quilt blocks arranged in unconventional settings have been a hit here at IQ and we think Long Time Gone will quickly be a must-sew quilt for you. This machine-pieced quilt includes a variety of scrappy blocks, mixing bold prints with low-volume background fabrics.

Sandy Stites will lead this group, which will meet on the second Saturday of the month from 9:30-10:30 a.m. starting April 8, 2017. Each month, participants will receive tips for creating that month's block(s).

We are offering two different fabric color stories for our Long Time Gone BOM participants. The Scrappy color story is a Jen-meets-IQ range of fabrics, mixing bright prints with low-volume fabrics. The Batik color story takes a rainbow of richly colored batiks and pairs them with neutral batiks for contrast.

The Long Time Gone BOM includes the pattern by Jen Kingwell (a $28 value) plus a quarterly sit-and-sew (dates to be announced later) during the course of the year. With either the Scrappy or Batik fabric options (fabric distributed monthly), the Long Time Gone BOM is $260.

Glorious Gardens
The first Saturday of the month starting in February 2017 and costs $60 for the class time. You can see all the details here.

The newest quilt-along from one of our favorite books, using those beautiful Kaffe Fassett fabrics we adore!

Kim McLean has created another incredible quilt using English paper piecing. Kim used a fun hexagon block, then partnered with Paper Pieces to create custom paper pieces packs and acrylic templates to make it easier for anyone to create this Glorious Gardens quilt -- including you!

Join Mary Lou Mojonnier at Intown Quilters for a 12-month stitch along to create your version of this quilt using a pattern booklet from Kim. You'll have the help and support of Mary Lou and a group of fellow hand piecers, too. What better way to spend a few hours once a month (or maybe even twice if you join the By Hand group on the 3rd Saturday here).

By Hand-the Art of Slow Quilting
Sometimes it is good to take a break from doing everything fast. Handwork is a great way to slow down and enjoy the process of creating. When you do handwork, you can often take it with you to take advantage of times when you are just waiting for something else, you can actually talk to friends and family while working on your projects, and it is relaxing. We will get together and work on quilting projects by hand - hand piecing, English paper piecing, hand appliqué, hand quilting. This is the time where you can bring in any project that you are working on or want to begin working on and we can help/encourage/get inspired by each other. This group will meet on the 3rd Saturday from 9:30am-1pm. $5 per month.
COUPONS

We have our IQ loyalty program, which is good for 20% off all regularly priced merchandise. Since launching our new computerized point-of-sale system, we are changing from paper cards to an electronic rewards system. No more forgetting your cards at home! We are happy to add your existing IQ cards to our system; just bring them in with your name and email address written on them.





We do occasionally give out coupons during shop hop and other special events like quilt shows. Coupons cannot be used on special orders or sale items, cannot be combined and there are no rain checks.





www.intownquilters.com

Visit us six days a week at 1058 Mistletoe Rd, Decatur GA, 30033!
Open from 10 a.m.-6 p.m. Monday and Thursday-Saturday,
10 a.m.- 8 p.m. Tuesday and 1-6 p.m. Sunday
Closed Wednesdays.