Happy Friday!

We are CLOSED today through the 7th for a much needed vacation break. We will be back at the shop at 10 am Tuesday the 7th for reservations, curbside pickup and phone help.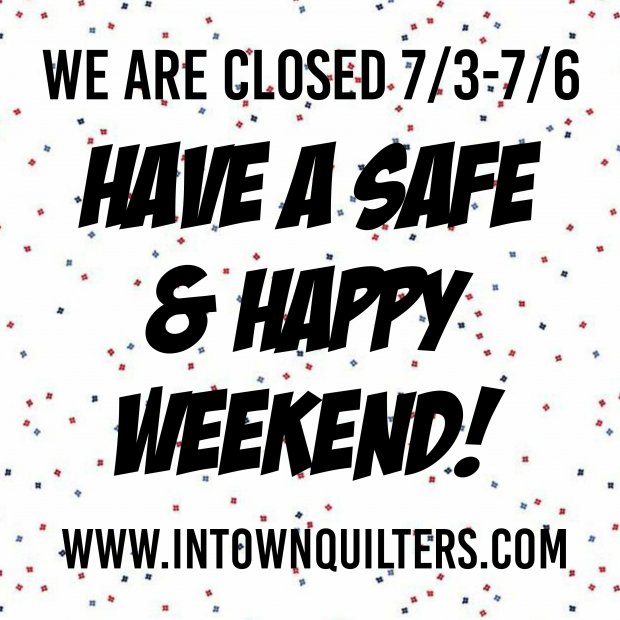 We received the Tula Pink True Colors line yesterday and cut all orders that were placed before 3pm yesterday. Expect to receive any shipping orders next week and pick up local orders on Tuesday the 7th. As an apology to all who have been waiting for soooooo long for the True Colors line to arrive, we are including a free gift valued at $15 with all pre-orders over $50 and all new orders of Tula Pink fabric placed by the end of 7/7/20, including her older lines like Monkey Wrench and Homemade plus the new True Colors release. To make it even more fun for everyone (even if Tula is not your thing), lets just say that we will include a gift (valued at $15) with every order over $50 placed between now and the end of 7/7/20. Gifts may be different for each person but don't worry, they will be quality things that we feel go with your order. We are looking forward to picking gifts for each of you!




We know many of our yarn folks have heard about the Berroco 123 Dropship program where you can order Berroco yarn from us that we don't have in stock and Berroco will ship it straight to you (usually very quickly). Berroco has been putting together some kits and we have added one to our website for order called the Zig Zag Jardin using the Millefiore yarn in a 50% Wool, 50% Acrylic blend. You can also order the Zig Zag Arcade kit made with one color of the Berroco Medina yarn, which is a 37% Cotton, 36% Acrylic, 27% Viscose blend perfect for summer knitting. If you have not seen all the yarns that you can purchase through us but have shipped straight from Berroco, check them out here. There are so many different fiber blends including their Modern Cotton, Modern Cotton DK, Liana, Cambria, Remix Light and Remix, (linen blends) that would be great for summer yarn work!




Update: We sold out of these templates but have more on order already so please call the shop to reserve one of the next shipment, if you would like one of the Creative Grids Face Mask Templates. This great template makes it very easy to cut out three different sizes face masks to streamline your mask-making efforts. We do not expect to get another shipment for seer veal weeks.




We know Georgia's governor has lifted the shelter in place order and many are ready to get out and about. We have not reopened for in-store shopping at this time, though. We continue to monitor and evaluate and would prefer to to help you virtually with both curbside pick up (remain in your car when you arrive and call us at 404-634-6924) and shipping of your orders! We have started RESERVATION only, in-store shopping for now with a reservation fee ($15) that goes towards your purchase. Your reservation is for up to 2 people so you may bring one other person with you under your reservation (adult or child). Right now we only have a few spots a day while we see how things go. All people inside the shop must wear a mask and bring their own hand sanitizer to use! You can reserve your spot HERE.

By coming inside Intown Quilters you acknowledge and agree to the following:
I am aware of the existence of the risk of illness due to Covid19 by shopping in public.
I have not experienced symptoms of any illness in the past 14 days.
I have not been, nor any member of my household, diagnosed with Covid19 in the past 30 days.
I have a mask to wear and my own antibacterial hand sanitizer to bring into the shop to use.
You must wear a mask and bring your own hand sanitizer inside the shop and use it once you are inside.
You must maintain 6 feet of distance.

Payment is by credit card only or you can send payment through PayPal when you are in the shop.

Why are we doing this reservation fee? Because we are all still very worried about the spike in cases of Covid19 that are already happening in our area, and want to keep your and our risk level as low as possible. We need to keep the number of customers inside the shop to a minimum and are only offering this shopping time to those who are committed to purchasing something from us. We hope to reopen to browsing sometime in July.




If you are wondering the next time Regina Carter will be coming to drop off and pick up quilts, it will be Saturday July 11th so mark your calendars! You have a week to get your quilt tops done and ready for Regina. If you would like to send our Quilter's Dream batting with your tops to be quilted, check our stock soon and if we are out of something you need, give us a call or email by Tuesday we might still be able to get batting in time for you before Regina comes.

For information on making face masks, check out our Charity Projects page. Please also share our GoFundMe fundraiser with your friends and family who might like to help out with masks but cannot help with the sewing of them. Our fundraiser is helping to pay for the fabric that we are providing to anyone who asks (over $5000 given away so far) and to supplement the pay for the shop employees during this time of limited work hours.
We appreciate the support you've shown us during these uncertain times. Whether you are an essential worker during this crisis or doing your part to #stayhome, you are in our thoughts!

Happy stitching,
Sarah & the IQF&Y crew