We know many of you are wishing we had shopping reservations for you, but with 25% of the new Georgia Covid cases occurring in Dekalb, Fulton and Gwinnett counties, we have decide the only safe way to remain open and to safely social distance is to limit the in-shop people to only 2 or 3 employees at a time and no customers. We are still here for you for phone and live FaceTime or Facebook help. We can send photos by text or email or get on FaceTime and walk around the shop. Give us a call at the shop if you'd like to get some help.

We have resumed curbside pickup with limited hours for now. Today's curbside pick up hours are 11 am-3 pm. Keep an eye on our social media channels (Facebook and Instagram) for updates to our hours. We post each morning and you can see posts if you click the links even if you aren't signed up with these social media outlets.

We have a restock on the way for Moda Silky Soft Black, as well and some Moda Bella Solid Zen Grey and Off White. We also have the new Safety First Mask panel by Stacey Hsu on the way in the same boxes. These will likely arrive late today or Monday so expect to pick up once we have called to let you know your order is ready.




We have been told that the new Ruby Star Society Facemask panel will be arriving in a few weeks, so we are putting it up on the site for pre-order, as well, in case you want to compare and get orders in so as not to miss out.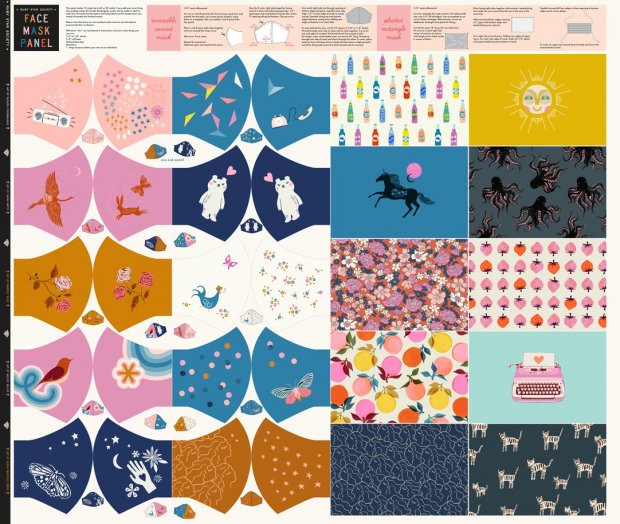 We have 5 left of the latest shipment of the Creative Grids Face Mask Template in stock now, so grab one while you can.

It's fun to get a little pop of Christmas at the shop during the heat of summer and this year's Deer Christmas offerings from Urban Chiks do not disappoint. We still have a couple of the awesome Deer Christmas kits but once they're gone, they are gone! The finished quilt measures ~70" x 78" and the kit includes all the fabric you need for the top, including the digital Deer Panel, pattern, plus binding (pre-cut as 2.5" strips). Just add backing -- and this Polka Dot Deer print from the line (selling quickly) would be perfect! We also have some layer cakes and charm packs from the line in stock and a few pieces of last season's Sweet Christmas, which coordinate nicely with this year's line.





We know many of our yarn folks have heard about the Berroco 123Dropship program where you can order Berroco yarn from us that we don't have in stock and Berroco will ship it straight to you (usually very quickly). Berroco has been putting together some kits and we have added one to our website for order called the Zig Zag Jardin using the Millefiore yarn in a 50% Wool, 50% Acrylic blend. You can also order the Zig Zag Arcade kit made with one color of the Berroco Medina yarn, which is a 37% Cotton, 36% Acrylic, 27% Viscose blend perfect for summer knitting. If you have not seen all the yarns that you can purchase through us but have shipped straight from Berroco, check them out here. There are so many different fiber blends including their Modern Cotton, Modern Cotton DK, Liana, Cambria, Remix Light and Remix, (linen blends) that would be great for summer yarn work!



For information on making face masks, check out our Charity Projects page. Please also share our GoFundMe fundraiser with your friends and family who might like to help out with masks but cannot help with the sewing of them. Our fundraiser is helping to pay for the fabric that we are providing to anyone who asks (over $5000 given away so far) and to supplement the pay for the shop employees during this time of limited work hours.
We appreciate the support you've shown us during these uncertain times. Whether you are an essential worker during this crisis or doing your part to #stayhome, you are in our thoughts!

Happy stitching,
Sarah & the IQF&Y crew