Happy Thursday!

Have you seen that Free Spirit Fabrics is offering a quilt challenge using the Quilts in Burano book by Kaffe Fassett and the new Kaffe Fassett Collective August 2020 line of fabric that is coming out next month? Read below to see the details of the challenge.


Win over $700 of Kaffe Fassett Collective February 2021 Fabrics!
August - November 23, 2020
Join our fun, impromptu challenge celebrating the newest Kaffe Fassett fabrics and patchwork and quilting book, Quilts in Burano, and #SayYestoKaffeCollective! Be the first to touch and treasure Kaffe Fassett Collective's new fabrics, no matter where you live in the world!
How?

Step 1: Select one quilt from Kaffe Fassett's newest book, Quilts in Burano, available in August. Sneak Peek below.
Step 2: Visit your favorite quilt shop online or in person, and hand-pick the perfect Kaffe Fassett Collective fabrics* to make the selected quilt from Quilts in Burano (see details).
Step 3: Starting in August, select, cut, preview, audition and audition again, until your color and design choices make you feel happy and very Kaffe-like.
Step 4: Now, with your creativity and color sensibility in just the right place, make your quilt or quilt top by November 23, 2020.
Step 5: Post your rendition of your Quilts in Burano quilt on your personal Facebook or Instagram account using this very important hashtag: #SayYestoKaffeCollective and tag @yourlocalquiltshop.
Step 6: Kaffe will search #SayYestoKaffeCollective and select his favorite quilts to win prizes valued at over $3,000!
When you #SayYestoKaffeCollective, you could win one of these fabulous prizes:
2 Top Winners – advance 1-yard cuts of the next Kaffe Fassett Collective February 2021, valued over $700 (USD).

2 Secondary Winners -- advance ½-yard cuts of the next Kaffe Fassett Collective February 2021, valued over $350 (USD).

6 winners to receive a complete set of the NEW Kaffe Fassett Collective Classic pre-cuts in January 2021, valued over $120 (USD).
Details:
50% of the quilt or quilt top must include the new Kaffe Fassett Collective fabrics delivering to your favorite quilt shop in August 2020. The other 50% must be made from any Kaffe Fassett Collective fabrics.

Contest is open to all, no country limitations.

Winners will be announced via FreeSpirit Fabrics social media platforms (Facebook and Instagram) by December 7, 2020.

Selected winners must respond via social media to secure their prize.

YOUR posting on your personal social media and the use of the #SayYestoKaffeCollective is your agreement that you will abide by the rules and accept the decisions of the judge.
Sooooo.....get ready by purchasing your Quilts in Burano book from us at a discounted price for a limited time, and then pre-ordering your fabric form the new line HERE to mix in with your stash you already have. You know how the Kaffe Fassett Collective works...you can basically throw any of his fabrics together and they will make something beautiful! He tends to run colors through all the different color ways in some way so that you do really even have to put a lot of thought into which you are using. As Jen Kingwell said in her lecture when she visited, "if you like the fabric, then it will go together" and that is how she comes up with her stunningly scrappy quilts. No planning, just grabbing and sewing! You can see the new August 20 fabrics HERE and all the Kaffe Collective HERE. We have fat quarter and fat eighth bundles for preorder and are working on some specially curated bundles from choices we like so check out the website to see all that is coming!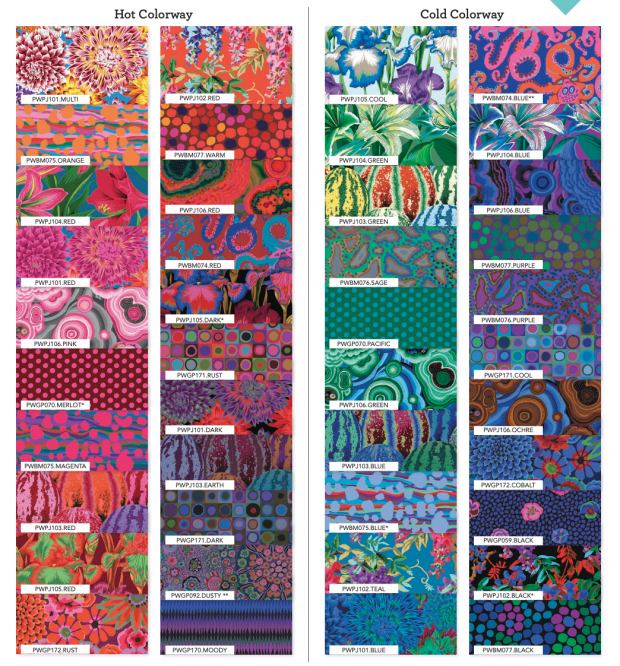 We are so excited to have the Flower Market line from Anna Maria Horner's Conservatory collaboration and designed by Courtney Cerruti up on the website for Pre-order today and arriving in the shop also today or tomorrow. There is a fabulous Spectrum panel and twelve wonderful prints to go with it, from which we have created a fat quarter bundle for those who love to sew with fat quarters. You can see a few of the prints in the collage below. Aren't they fantastic?




We have gotten in a restock of the Moda Silky Soft Black, as well and some Moda Bella Solid Zen Grey and Off White. We also have the new Safety First Mask panel by Stacey Hsu in stock now! Grab yours up on the website and we can have it ready for you to pick up today. Other restocks arriving today area variety of straight pins, machine needles, a bunch of different threads and the Fat Quarter Quartet pattern/booklet that is a great pattern to use with any fat quarters you have stashed. You can mix and match fabrics to make fun quilts using this pattern.




We have been told that the new Ruby Star Society Facemask panel will be arriving in a few weeks, so we are putting it up on the site for pre-order, as well, in case you want to get orders in so as not to miss out.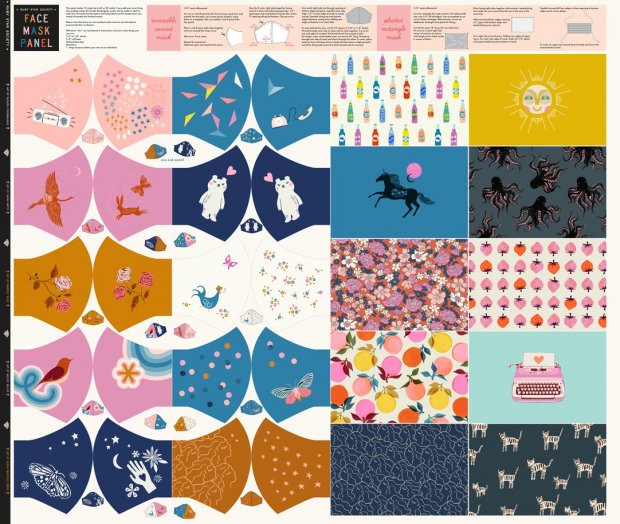 We have 1 left of the latest shipment of the Creative Grids Face Mask Template in stock now, so grab one while you can.

It's fun to get a little pop of Christmas at the shop during the heat of summer and this year's Deer Christmas offerings from Urban Chiks do not disappoint. We still have a couple of the awesome Deer Christmas kits but once they're gone, they are gone! The finished quilt measures ~70" x 78" and the kit includes all the fabric you need for the top, including the digital Deer Panel, pattern, plus binding (pre-cut as 2.5" strips). Just add backing -- and this Polka Dot Deer print from the line (selling quickly) would be perfect! We also have some layer cakes and charm packs from the line in stock and a few pieces of last season's Sweet Christmas, which coordinate nicely with this year's line.





We know many of our yarn folks have heard about the Berroco 123Dropship program where you can order Berroco yarn from us that we don't have in stock and Berroco will ship it straight to you (usually very quickly). Berroco has been putting together some kits and we have added one to our website for order called the Zig Zag Jardin using the Millefiore yarn in a 50% Wool, 50% Acrylic blend. You can also order the Zig Zag Arcade kit made with one color of the Berroco Medina yarn, which is a 37% Cotton, 36% Acrylic, 27% Viscose blend perfect for summer knitting. If you have not seen all the yarns that you can purchase through us but have shipped straight from Berroco, check them out here. There are so many different fiber blends including their Modern Cotton, Modern Cotton DK, Liana, Cambria, Remix Light and Remix, (linen blends) that would be great for summer yarn work!



For information on making face masks, check out our Charity Projects page. Please also share our GoFundMe fundraiser with your friends and family who might like to help out with masks but cannot help with the sewing of them. Our fundraiser is helping to pay for the fabric that we are providing to anyone who asks (over $5000 given away so far) and to supplement the pay for the shop employees during this time of limited work hours.
We appreciate the support you've shown us during these uncertain times. Whether you are an essential worker during this crisis or doing your part to #stayhome, you are in our thoughts!

Happy stitching,
Sarah & the IQF&Y crew