Hello!

Happy Monday and happy Spring! I have received several messages in Instagram and Facebook expressing surprise that I am still selling fabric on the website. So, to explain it here in case you missed it before, I am still selling a few things on the website (at new lower web only prices) to help cover the fees that I have to pay each month to keep the website up. I wanted to keep the website up for those of you who bought kits from the shop, so that you can find photos of those kits on the Retired Kit page. If you have bought a kit before form the shop, you might visit that page to save photos of your kit(s) to your computer, as at some point in the future this website will most likely go away.

If you hear of anyone opening (or thinking about opening) a new shop, let them know that this website might be available to them. The IQ website would make their lives far easier for setting up a shop and be much cheaper than starting from scratch. The name and the whole look of the website can be changed to match what another person would like to reflect in a shop, but the many, many, many hours of inputting that Mary and I went through would make getting started much easier for anyone else. Of course, if someone wanted to keep the name, that would be fine as it would help them with internet exposure, too.

Now, onto the fabric front, I was so excited to open a box from Free Spirit Fabrics on Saturday to see fat quarter bundles of the new February 2021 Kaffe Fassett Collective line. OMG, they are so pretty. I have 8 bundles left of each of the two bundles the company put together, HOT (warm colors) and COOL (cool colors), and 9 each of Charm Square packs in the same colors. You can see them on the New Arrivals page by clocking HERE. I also have a few bolts of the 42" wide and Wide Backing fabrics on order and due in later this month, which you can see on the Preorders page of the website by clicking HERE.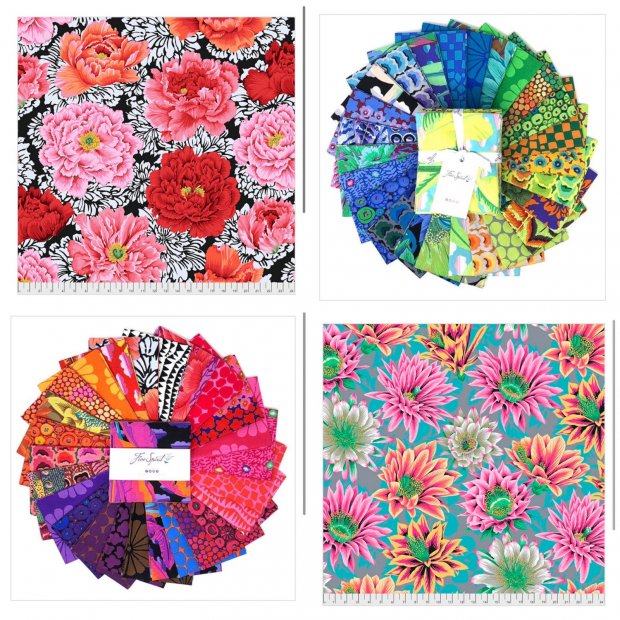 I still have some bundles of Grunge in stock (still waiting on one color of the bundles to arrive) that are good for adding colors to your stash. I also still have a few of Jen Kingwell's Winkipop, Tula Pink Designer solids, and V & Co. Ombre Fairy Dust in stock and ready to ship out to you! There are more fun things on order, due at different times over the next few months, that you can see on the preorders page of the website. The Tula Pink Linework yardage that I have left is still on sale, as well as some other fabrics, so check out the sale page.



If you did not see on social media, I have added most of the the Urth Yarns lines to the website for order to be shipped directly to you from the manufacturer, in addition to the Berroco Lines that were already up for drop shipping. I am slowly getting the Berroco Yarn up in an easier to view way, so keep checking on it. This gives you the option to purchase from me, which I much appreciate, and have your order ship directly from the company. I have priced the yarn a bit lower than it was in the retail store to help cover shipping costs.

If you need any knitting needles check out the Knitter's Pride and Chiaogoo still left and on the website and if you love you XCVI Wearables ready made apparel, there are several left up for grabs and on sale!


I would love for you to visit our FACEBOOK page regularly to share some photos of your projects that have come out of the shop over these last 18 Years and your new projects you are working on. We'd love to see the page continue to be a place where we can all share in our love of crafting. You may even see notices of our plans to take field trips to visit other shops in the southeast together, since we have not been able to do that very often. We hope to see you on some of these trips.

Happy stitching!