Hello!

Happy Spring to you! What a beautiful Spring it has been so far! I want to update you on a few things that are up on the website. If you have not seen the emails and social media posts previously (surprisingly many haven't), I am still selling online for the time being to keep the site up and going for you all to find photos of previously purchased kits (on the retired kits page) and just in case I (or someone else) gets a wild hair to open another Intown Quilters (or easily any other name) brick and mortar shop someday. There is no plan to do so as of now, but you never know about the future. In the meantime keep checking out the website every so often!

I have spoken with a few people recently who did not realize there are live links in these emails to the item on the website. Any time you see some of the wording underlined and/or a different color font, you should be able to click right on it to be taken to the website to see the items being discussed. Occasionally the links have glitches so try a different one and then just look around on the website. The photographs in most emails also will take you to the website if you click on them. Many things are on the New Arrivals page, which you can get to by clicking on the words New Arrivals. Others are on the Sale page among other pages. I invite you to explore the website.

I have gotten in some new color way bundles of Kaffe Fassett Collective classics that would be great for adding to your stash. Check them out through this link HERE.




The new Tula Pink Mad Hatter kits are due to arrive in May (a month delay due to shipping issues) so the kits are still up for preorder at a nice price. You can see the details and grab one by clicking HERE or on the photos. I am only bringing in what gets pre-ordered so there will not be a chance to buy one later one from me.




I also have restocked the Tula Pink Sketchyier Wide backing and Ink Hexy Rainbow, plus I still have a few of the other bolts and 10" squares from the line in stock. I also have the latest Free Spirit Solids bundled for Tula Pink in fat quarter bundles, charm squares and pre-cut hexegons.




I was so excited to see the latest fat quarter bundles of the new February 2021 Kaffe Fassett Collective line. OMG, they are so pretty. I have 4 bundles left of each of the two bundles the company put together, HOT (warm colors) and COOL (cool colors), and 7 each of Charm Square packs (on sale now) in the same colors. You can see them on the New Arrivals page by clocking HERE. I also have a few bolts of the 42" wide and Wide Backing fabrics on in stock now, although a few have already sold out.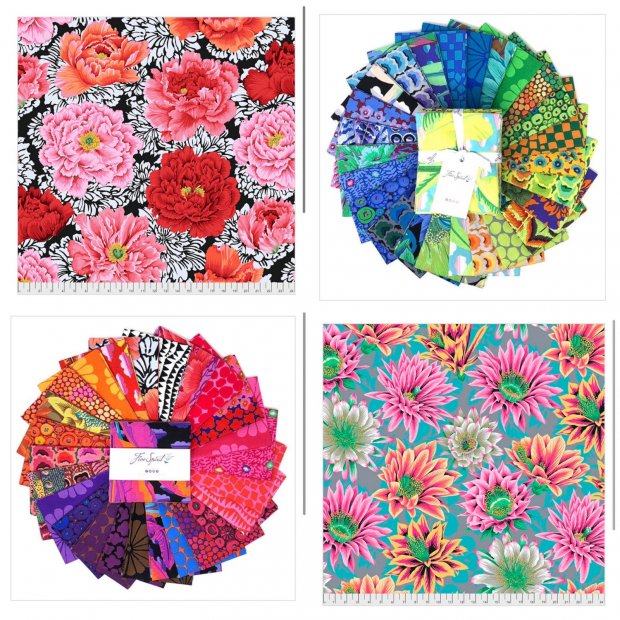 I still have some bundles of Grunge in stock (still waiting on one color of the bundles to arrive) that are good for adding colors to your stash. I also still have a few of Jen Kingwell's Winkipop, Tula Pink Designer solids, and V & Co. Ombre Fairy Dust in stock and ready to ship out to you! There are more fun things on order, due at different times over the next few months, that you can see on the preorders page of the website. The Tula Pink Linework yardage that I have left is still on sale, as well as some other fabrics, so check out the sale page.



If you did not see on social media, I have added most of the the Urth Yarns lines to the website for order to be shipped directly to you from the manufacturer, in addition to the Berroco Lines that were already up for drop shipping. I am slowly getting the Berroco Yarn up in an easier to view way, so keep checking on it. This gives you the option to purchase from me, which I much appreciate, and have your order ship directly from the company. I have priced the yarn a bit lower than it was in the retail store to help cover shipping costs. The image below is the Aflutter Kit from Earth Yarns and isn't it magnificent! I've had several orders for this kit and cannot wait to see photos of those projects as they get going. You can even request to change the colors of the yarn with other colors form the same yarn bases, which one customer did. I am looking forward to seeing her mix come to life!


I would love for you to visit our FACEBOOK page regularly to share some photos of your projects that have come out of the shop over these last 18 Years and your new projects you are working on. We'd love to see the page continue to be a place where we can all share in our love of crafting. You may even see notices of our plans to take field trips to visit other shops in the southeast together, since we have not been able to do that very often. We hope to see you on some of these trips.

Happy stitching!