Hello!

Happy Friday!

What a nice cool morning it is and maybe the last before a dreaded heat spell. What better time than to plan out some projects to stay inside in the AC and get some crafting done. If you like to get Regina Carter to quilt your quilts, her next visit to Decatur will be June 12th, which gives you plenty of time to get something finished and ready to hand off to her. You can see her updates on her Facebook page here.

There are just one left of a few things on the website: Jen Kingwell's Winkipop, V & Co. Ombre Fairy Dust, Grunge fat quarter bundles just to name a few. There are several left of the Tula Pink Designer solids charm squares and pre-cut hexagons, too. The Tula Pink Linework yardage that I have left is still on sale, as well as some other fabrics, so check out the sale page, including the Sketchier Wide Back.


If you have been using up your Kaffe Fassett Collective stash and need anything to help you finish up a project or get inspired to start a new one, check out the website to see which KFC fabrics you can still get form IQF&Y. There is plenty of yardage on many bolts, to back your quilts and there are a few wide backings, too.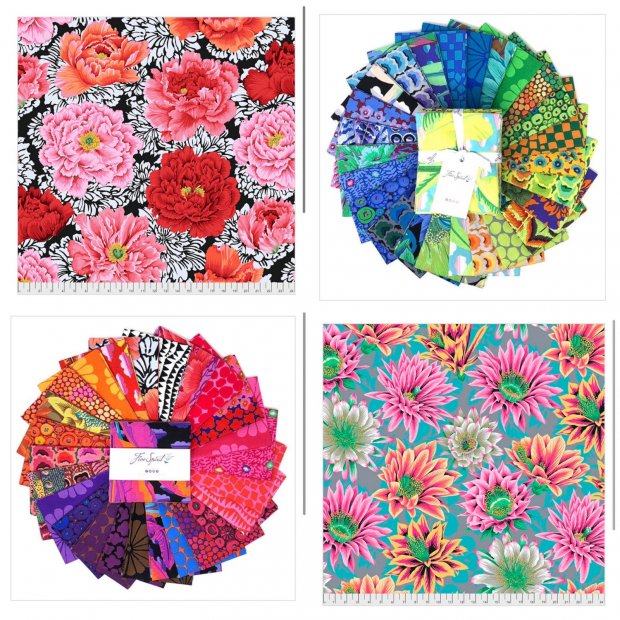 If you did not see on social media, I have added most of the the Urth Yarns lines to the website for order to be shipped directly to you from the manufacturer, in addition to the Berroco Lines that were already up for drop shipping. I am slowly getting the Berroco Yarn up in an easier to view way, so keep checking on it. This gives you the option to purchase from me, which I much appreciate, and have your order ship directly from the company. I have priced the yarn a bit lower than it was in the retail store to help cover shipping costs. If you need any knitting needles check out the Knitter's Pride and Chiaogoo still left and on the website

I would love for you to visit our FACEBOOK page regularly to share some photos of your projects that have come out of the shop over these last 18 Years and your new projects you are working on. We'd love to see the page continue to be a place where we can all share in our love of crafting. You may even see notices of our plans to take field trips to visit other shops in the southeast together, since we have not been able to do that very often. We hope to see you on some of these trips.


Happy stitching!